How it Works
Minga.House platform searches all internet to find housing advertisements for rent, buy or even WG(shared apartment).
So you don't have to spent time to search apartment. Also what is important is to apply a house as fast as possible. With Minga.House you will be notified very quickly once housing advertisement published. So you will be one of the first one who can apply for it. This will get you so called "besichtigungstermin" and now you are so close to get your apartment.
Just take a short time to subscribe and start to find your next home. Let's get started!
Fill the Subscription Form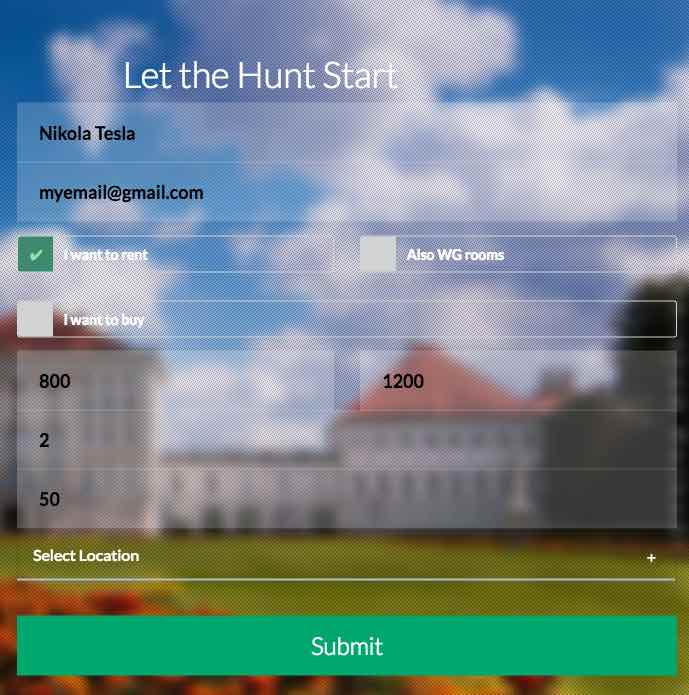 We have simple subscription form which has basic requirements for house search. Basically full name and email part is required but rest can be left as default. But we strongly recommend fill the all parts of the form so you will not get unnecessary emails. If you don't add any price range then we will bring houses from all price ranges. Same for room and size options. For location if you don't select any location we will search houses in all Munich. (Right now location form does not work in iphone and in safari browser. We apologize for the inconvenience. It works well on android and chrome browser.)
Confirm Your Subscription

Once you submitted subscription form we will send you an email for confirmation. To get housing advertisement you need to confirm by clicking link in the email or just copy url to browser.
Get Housing Advertisement via Email

As you can see from above picture you will get housing advertisement through email based on your preferences. After this point it is up to you to apply for a house :)
Unsubscribe from Minga.House

If you don't want to receive anymore email just click one of the link we send with housing advirtesment. After unsubscribe you will not get anymore housing emails.
---
How to update your preferences
Fill the Subscription Form with Same Email Address
In case you want to change any of your preferences just use same subscription form and use same email address. Basicaly you can change your preferences with same form by using same email address.
Confirm Your Changes
Once you update your preferences by using same email address you will get a confirmation email as before. Just confirm your changes by clicking link then your preferences will be used for new house search.